The Kydd & Kydd Veterinary Health Centre is a well established family run practice which aims to offer the highest possible veterinary services to you and your pet. The centre has been accredited in the RCVS Practice Standards Scheme (tier 2) which means it must undergo regular monitoring of practice standards by the Royal College of Veterinary Surgeons.
Kydd & Kydd offers health care plans for all new puppies and kittens and six monthly free health checks for all cats, dogs and rabbits on our vaccination programme. Our facilities include full surgical, x-ray and dental services and David Kydd is qualified to accept orthopaedic referral cases to the practice. Pets passports, micro-chipping and dietary advice is also available as well as a wide range of pet food and pet accessories.
We are open six days a week, provide 24 hour emergency cover and offer late night opening till 8pm on selected evenings. Providing good customer and patient care is of the utmost importance to the practice. This is made possible by our excellent facilities and the highly qualified and caring professional staff who take care of our patients' needs and treatments and provide you with a high quality service.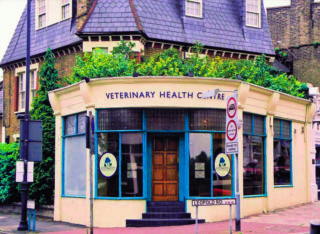 Address:
Kydd & Kydd Veterinary Health Centre
1-3 Leopold Road
Wimbledon
London SW19 7BB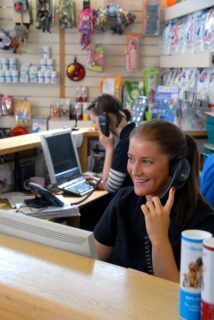 Directions:
From Wimbledon Town Centre turn down Alexandra Road at the traffic lights. Proceed to the second mini roundabout, at the junction of Alexandra Road, Gap Road and Leopold Road. The Veterinary Centre is on the junction at the mini roundabout.
Visit Google Maps to see where we're located.
Tel: 020 8946 9925
Email: info@kyddandkydd.demon.co.uk
Web: www.kyddandkyddvets.co.uk
Opening hours:
Monday to Friday, 8am to 7pm
Late night Monday & Thursday till 8pm
Saturday, 9am to 5pm
Parking:
Free parking is available for up to 2 hours in Waitrose car park for our clients and patrons of Leopold Road shops (3 mins walk). Free parking is also available in Strathearn Road in metered bays before 11am and after 3pm. Up to 20 minutes free parking has been introduced at Pay and Display bays in Leopold Road between 08:30am and 18:30pm. Please check times and parking regulations before leaving your car as parking regulations may be subject to change. Pay and display meters are
currently in operation between 11am and 3pm Mon to Fri in Strathearn Road and between 08.30am and 18.30pm Mon to Sat in Leopold Road.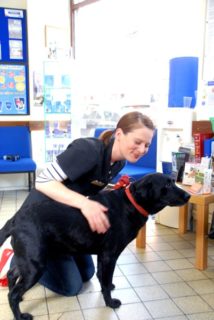 Disabled & emergency parking:
If you are disabled or need to park urgently, for example transferring a seriously injured pet from your vehicle to the surgery, briefly pull up outside the practice and ask us to open the gates at the rear. Access is via Alexandra Road next to the zebra crossing. We have space for one vehicle to park in an emergency. Please only use this option for this purpose.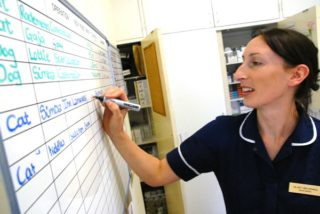 Services we offer:
Consultations
Modern medical and surgical facilities
Separate dog and cat wards
Fully air conditioned premises
X-ray and imaging facilities
Dental care
Neutering
Vaccinations
Free 6 monthly health checks for pets on our vaccination programme
Flea and worm treatment
Microchipping
Nurses clinics
Weight clinics
In house pet store
Our vets & nurses:
David Kydd BVetMed CertVR CertSAO MRCVS Partner Veterinary Surgeon
Lindsay Donaldson MA Vet MB CertGP (FelP)
George Lightfoot BA VetMB MRCVS Veterinary Surgeon
Victoria Tadd RVN Veterinary Nurse
Joanne West RVN Veterinary Nurse
Aimie Webber RVN
Stephanie Brockway RVN
Kara Bartholomew Receptionist
Heather Oakley Receptionist
Tracey Scott Receptionist
Everyone at our practice is committed to providing you with the very best in pet healthcare. Our veterinary team bring a wealth of experience to the practice and have individually obtained high standards of professional qualification.