St George's Veterinary Centre, Weybridge opened in January 2011 and aims to provide the highest standards of veterinary care to the pets of Weybridge and the surrounding areas.
The attractive, clean and well-equipped premises have been designed to create a calm and friendly atmosphere. The modern facilities include a spacious operating theatre, state-of-the-art digital X-ray machine and ultrasonic dental equipment. The reception area offers a wide range of toys, pet accessories and diets to treat your pet.
St George's Veterinary Centre is independently owned and is not part of a chain or corporate group. Our clients can rely on a highly personal service, with every animal receiving individual attention.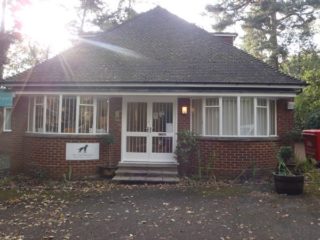 Address:
St George's Veterinary Centre
Holland House
Old Heath Road
Weybridge
Surrey KT13 8UF
Find Us:
The practice occupies a convenient location adjacent to Weybridge Railway Station, and has its own private car park with ample free parking. There is a mini-roundabout at the entrance to the station, simply take the next exit after the station and follow the road for 100 yards where you will see the practice entrance on your left. If you are familiar with the "Hand and Spear" pub then the practice is situated 100 yards before this.
Visit Google Maps to see where we're located.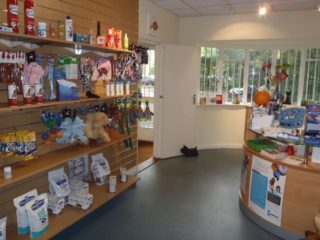 Tel: 01932 858890
Web: www.stgeorgesvetcentre.co.uk
Follow us on Twitter
Visit our Facebook Page
Opening Times:
Monday-Friday: 8AM-7PM
Saturday: 9AM-12 NOON
Consultation Times:
Monday-Friday: 9AM-11AM & 4PM-7PM
Saturday: 9AM-12NOON
Emergency Service:
365 days/year 24/7
Our Staff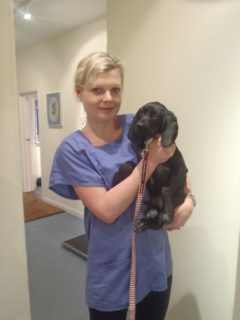 Emily Thomson – Veterinary Surgeon
MA, VetMB, GPcert(SAP), Dipl(CABT), MRCVS
Emily qualified as a veterinary surgeon in 2001 from Cambridge University, where she also obtained a first class degree in Zoology. After a year in a rural mixed practice, Emily made the decision to specialise in small animal medicine and surgery. She has worked as the senior vet in two practices in Greater London and has practiced in Weybridge since 2007. Emily is interested in all aspects of veterinary medicine and surgery and has obtained several postgraduate qualifications. She aims to offer her clients a highly empathetic and compassionate service for their beloved animals.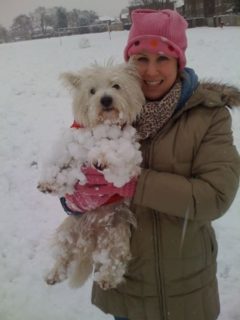 Leanne Murphy – Veterinary Nurse
RVN
Leanne has been a qualified veterinary nurse for 10 years and brings a wealth of experience to the role. She is incredibly compassionate and is always happy to offer advice and reassurance to owners. If your pet is admitted for the day she will ensure that they have the best care and will always treat them as if they were her own. She has a much loved West Highland Terrier 'Mollie', so understands how much your pet is part of the family and how worrying it is when they become ill. Therefore she will always endeavour to make your visit to the vets a positive one.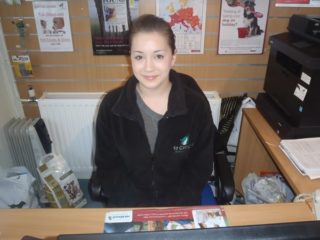 Marie Sullivan – Receptionist
Marie is a cat lover and has two kittens of her own, Archie and Max. Her friendly and helpful manner puts clients at ease.
Veterinary Services
St George's Veterinary Centre offers a wide range of veterinary services, which include:
Vaccinations
Micro-chipping
Preventative flea and worm control
Neutering
Full surgical facilities
Digital X-rays
Comprehensive laboratory diagnostics (blood tests, urine tests, tumour analysis etc.)
Modern dentistry facilities (including ultrasonic "scale and polish")
Pet passports
New puppy and kitten checks (free of charge)
Nutritional and behavioural advice
Testimonials
Thanks for everything over the four years we have been here, our best wishes to you all.
Kay & Paul C
Emily has been my vet for 11 years now. I have always gone to her at every practice she has been to. I was overjoyed when she decided to open up her own practice in Weybridge, and I have recommended many people to her. They too have been extremely happy with Emily and the care and dedication she gives. She often goes above and beyond the call of duty with my dogs and also for my family and friends pets. Emily is the loveliest & most compassionate vet I have ever had the pleasure to know. She also employs the best staff, they are always caring and supportive. I cannot ever imagine using a different veterinary practice. They are second to none.
Rosie Ison
We are so very attached to our animals and know someday we will have to let the go. We are however very please Buster is still with us. Thank you again for making the experience alot less scary by your caring, prefessionalism and skills.
Alicia S
You have now got a reputation as the bunny whisperer of Weybridge, I don't know how or why it worked but it did! People who had seen the aggressive fighting between them are amazed, It is lovely seeing them in their cage together side by side.
Wendy S
I am grateful for all you have done with Biff over the years since we moved to Surrey. I know it seems obvious to anyone that a vet would care for animals, but unfortunately this hasn't always appeared to be the case in my 25 years of dog ownership. You genuinely care for your patients. Thanks again for all your help and care and we will see you again when the time is right.
Mark W
Thank you so much for looking after Mr Darcy and making sure everything went ok. He is back to destroying everything in his path – so all is normal!
Louise L
Thank you so much for your excellent care of Bugsy last week. Your prompt treatment and continuing care of him was brilliant and we felt confident that he was getting the best attention available. It is fantastic to have him home, back to his usual self!
Eleanor & Dave H
You guys have been fabulous! I could not have stumbled into a better place. Thanks for the puppy parties and all the advice.
Vikki S
Thank you for all your valued support and assistance, it is much appreciated.
Sandra M
Thank you for caring for our dear India. She seems fitter than before her operation!!
Judith L
Thank you for the superb care you have extended to our fury friends – past and present!!
Sue V
I was recommended St George's by a friend and am very glad she did! Thank you so much for all you have done for my Simba.
Kelly W
I am convinced that if we had been registered at any other vets surgery, Boris would not be with us today. Your compassion and your dedication and determination to solve the mystery of why Boris was "unravelling", together with going beyond the call of duty in never turning me away no matter what time I called to say "It's happened again" are the reasons why Boris is still a much loved member of our family. I can never thankyou enough for everything you did for us.
Fiona J
Emily Thomson's service as a veterinary surgeon is of an exceptional level of skill, knowledge and devotion that is unprecedented and unequalled in my experience. I have to use the word indispensable to describe how dependent I am on her, to the extent that I now can not envisage using the services of any other veterinary surgeon.
Through her painstaking dedication, in-depth knowledge, searching investigation and brilliant skill, Emily saved the life of my cat Thomas 18 months ago and, against odds, brought him finer health than he had previously enjoyed for a long time. Vitally, she helped me cope with an exceedingly anxious situation by making personal visits to my home, not only to attend to Thomas with meticulous care, but to help me handle my own acute fears and make sure that I was able to deal with the difficulties I had to face over my cat's serious illness. Subsequently, while my cat was recovering from his illness, Emily took the greatest care to monitor his progress, making herself available at virtually any time for a consultancy.
This level of personal attention, both for the animal and the owner, is unique in my experience. Combined as it is with Emily's profound, broad ranging knowledge and brilliant skill, as well as her insistence on probing a situation until she is certain she has found the true cause and treatment for the illness, she is far and away the most valuable veterinary surgeon I know of.
Emily Thomson's service is indeed absolutely indispensable.
Jon Tolansky-Documentary Producer-WFMT Radio Network, EMI Classics and formerly BBC World Service