Contact: Amy Bergs DVM MRCVS
Phone: 07961 154886
Email: info@thecatdoctor.co.uk
Website: www.thecatdoctor.co.uk
Facebook: www.facebook.com/mobilecatvet
Opening times: We answer our own phones 24 hours a day but ask that you please keep routine queries between the hours of 9am and 7pm on weekdays and 9am and 12pm on Saturdays.  Consulting times may vary and are based around your own requirements with routine appointments as late as 9pm.
A bit about us: The Cat Doctor is a family-run, feline-friendly mobile veterinary practice that is dedicated to providing your cat with the best possible care in the comfort of their own home. A full-service veterinary practice, we have access to clinic facilities should they ever be needed, but aim to provide most services at home. Visits are relaxed and thorough and can be arranged for a time that suits you with routine appointments as late as 9pm. If you find getting your cat to the vet difficult for any reason or are simply looking for more from your cat's vet, we're here to help.
Our vet Amy has a soft spot for older cats and the conditions they often find themselves having to deal with, and our nurse Shreen has an amazing ability to put even the most anxious cat at ease during the visit. We see every cat as an individual with their own needs and preferences and realise that there is no 'one size fits all' approach to veterinary medicine, particularly when it comes to cats.
From feline-friendly medications and handling methods to personalised vaccination protocols and full written health assessments, we're proud to do things a bit differently.
Area served: We cover much of Surrey and a bit of south west London including Wimbledon, Surbiton, Kingston, Esher, Epsom, Cheam, Leatherhead, Reigate, Caterham and everything in between. If you live outside our area but would still like us to visit, just give us a ring on 07961 154886 and we'll something out. For a map of our practice area, click here:  http://goo.gl/maps/lGVVa
Services provided at home:
Full health checks
Vaccinations
Flea/worm prevention
Kitten check-ups
Microchips
Passports
Health certificates
Nail trims
Dematt (+/- sedation)
Blood tests
Urine tests
Full pharmacy
Weight checks
Hospice care
Euthanasia
Services provided at our associated clinics:
Spay
Castration
Routine surgical procedures
X-rays
Dental cleanings and extractions
Ultrasound/other scans to be arranged
Referral to a specialist if needed (transportation provided)
Services provided for you:
Convenient hours
Personal, attentive care
Medication and food delivery
Advice on feline behaviour
Written health assessments after each visit
Fair and transparent pricing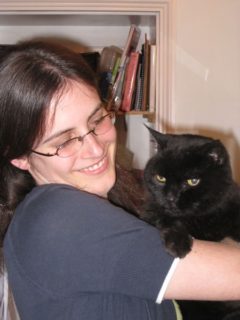 Our vet: Amy Bergs DVM MRCVS – Originally from New York State, Amy graduated from Cornell University with a degree in Veterinary Medicine in 2006. Since relocating to England in 2008 with her English husband, she has had 2 sons and worked in veterinary practices in Esher, Shepperton and Richmond. Wherever she worked, Amy developed the reputation of 'that vet who's really good with cats' and although she enjoyed working with all animals, she was constantly reminded that her real passion was for her feline patients. She is particularly interested in feline preventative care and internal medicine and is working towards a certificate in feline medicine. The Cat Doctor has been Amy's dream for many years and she now couldn't imagine doing anything else. She shares her home with three cats – Maddy, Molly and Mider.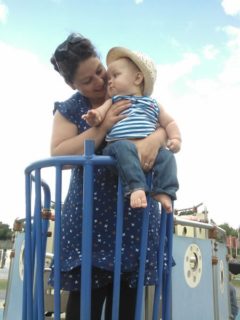 Our nurse: Shreen Haywood RVN – A native of Bermondsey, London, Shreen enjoys caring for all animals but has a particular soft spot for cats and is excited to be part of a team that will provide them with the quality of care that they deserve. Shreen met her husband whilst working in Wimbledon and they now share their home with their young son and teenage daughter. Cats have always been a part of her life and she has an incredible ability to put them at ease no matter what the situation, a skill much appreciated by her three current feline companions – Aaliyah, Doris and Horatio.