When looking for ways to describe the Staffordshire Bull Terrier often you will hear courageous, intelligent and a strong love of children. Despite often getting a bad reputation this loveable lively breed with steal the hearts of anyone who meets them making them the perfect family pet.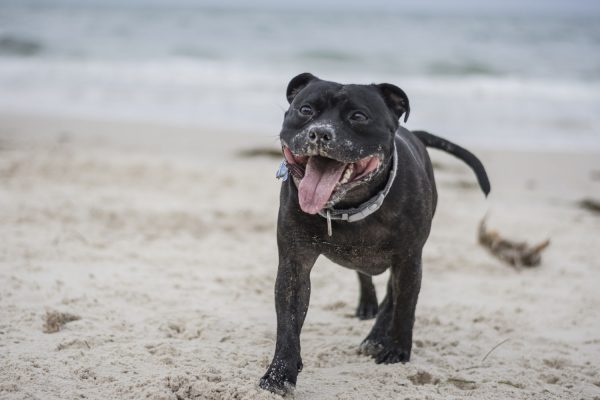 Facts about Staffordshire Bull Terriers
Temperament: Lively and loveable
Social/Attention Needs: High
Average Life Span: 11-13 years
Coat length: short and coarse
Grooming required: weekly
The Look of Staffordshire Bull Terriers
Smooth-coated, well balanced, of great strength for his size. Muscular, active and agile.
A small to medium sized breed with a short, easy-care coat. They are active and agile with a gentle personality. With a short, broad head and muscular body, he resembles the other bull breeds such but the SBT is a breed unto himself with distinct physical characteristics that set them apart – including size and ear shape.
Staffordshire Bull Terriers come in red, fawn, white, black or blue, or any one of these colours with white. As well as any of shade of brindle or any shade of brindle with white.
The History of Staffordshire Bull Terriers
The Staffordshire Bull Terrier comes from the Staffordshire region of, England. They were originally bred in the nineteenth century from crosses between Bulldogs and various other terrier breeds. The Staffordshire Bull was originally bred for the then-popular sport of bull baiting. Then, in the twentieth century, interest in the breed grew as a good family pet.
Health problems seen in Staffordshire Bull Terriers
All have varying incidences of health problems that may be genetic. Problems that may affect the Staffordshire Bull Terriers include the following:
Hypothyroidism
Skin sensitivities
Hip Dysplasia
A fun fact about Staffordshire Bull Terriers
The Staffie gets around – even in the celebrity world! Celebrity owners include Vin Diesel, who has a Staffie called Winston.