A part of the Persian cat family, the Chinchilla is one of beauty. Chinchilla cats are people-orientated making them a wonderful addition to any family home, give a Chinchilla cat a warm lap to snuggle on and they will be a friend for life.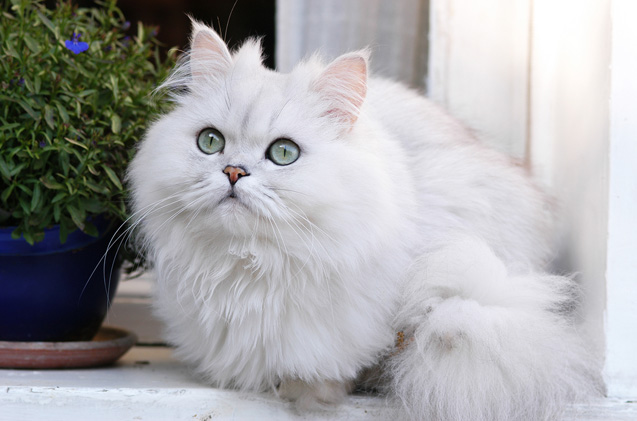 The Facts
Temperament: Home loving and friendly

Social/Attention Needs: high

Average Life Span: 14 – 16 years

Coat length: Long

Grooming required: High, Chinchilla cats require daily grooming to avoid matting.
The Look
These strikingly beautiful white cats always have green eyes (emerald or blue-green) that look Kohl rimmed – often giving them the look of always being surprised. They are a mid-sized breed with a thick coat which requires a lot of tending to.
The History of Chinchilla Cats
Chinchillas are of the manmade variety and were developed from a silver Persian, Chinnie, who was born in 1882. She was the offspring of a blue Persian and an unknown stray tom. Breeders encouraged the colouring through outcrossing and Chinnie's descendants began looking like the Chinchillas we know now in the early 1900s. The first standards were drawn up around the time that The Chinchilla, Silver and Smoke Cat Society (the name has since altered slightly) was established in 1908.
Health
All have varying incidences of health problems that may be genetic. Problems that may affect the Chinchilla include the following:
Polycystic Kidney Disease
A Fun Fact About Chinchilla Cats
A Chinchilla cat was the feline companion of James Bond villain Bolfeld, who would curl up on his master's lap as world domination was planned.