With the evenings drawing in and the leaves on the trees starting to turn, Autumn is steadily coming closer. The change in seasons can sometimes mean different needs for our dogs, no longer are they hot from summer sun and instead they maybe starting to feel colder or nervous due to the approaching firework season.
Here is our list of essentials in order to get your dog ready for autumn:
In the dark evenings it is essential your dog can be seen wherever they are, to not only ensure they do not get lost, but also to ensure they can be seen by cars and cyclists.  A clip light collar is a simple and cost-effective way to ensure your pet is safe over autumn and winter.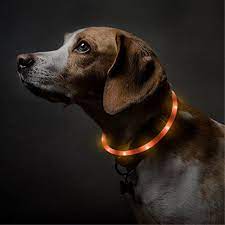 Just like us, dogs can feel the cold, so it is important to ensure they are keeping warm throughout the autumn and winter. We love the EZY Dog Elements range, as they are comfortable, practical and waterproof, ensuring your dog is still able to play and walk as normal with them on.
Many dogs find fireworks stressful and unsettling, so many people opt to use an Adaptil pheromone plug in their home to help their dog feel more secure during Autumn. It is advised Adaptil is started from at least 30 days before the event to ensure if it is effectively working.
Paw wipes are great all year around, but become especially important during the winter. During the colder months road grit is used on the road, often this may contain anti-freeze, a chemical which can use Kidney failure in our pets when ingested. Therefore it is essential to wipe our pet's paws when they come in from walks.
A comfy bed 
After a cool and brisk day there is nothing better for your dog than a warm, comfortable bed. A dog bed allows your pet to have his own space and get a good night's sleep. It also provides him with insulation from a cold hard floor and cushioned support for joints and bones.
Dog Flea & Tick Preventives (we always recommend you purchase your parasite preventatives from your Veterinary Surgeon) 
Autumn is no time to ease up on your pet's flea and tick preventive applications. Fleas and ticks remain active all year long, in fact, fleas love nothing more than a warm home. Remember, it is much easier and less expensive to prevent infestations on your pet than it is to treat an infestation.
In preparation for their winter coats, many dogs go through a second seasonal shed in autumn. Promote health and shine of the new growth with Omega-3 supplementation.