Christmas is a wonderful time of year – but not always for your pets! Here are some tips for keeping your pets out of danger during the festive period.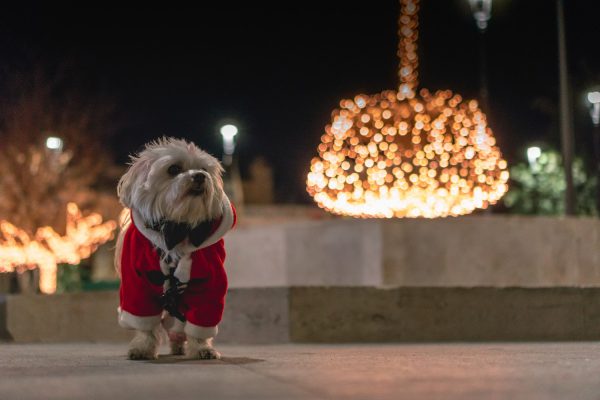 Potential food and beverage toxicities:
Alcoholic beverages

Chocolate (highly toxic to pets)

Coffee

Mouldy or spoiled foods

Salt

Chicken or Turkey bones (they can splinter)
Avoid giving your pet any of your leftovers as this can cause diarrhoea. Also keep your pet away from cooked bones: they can splinter or get lodged in your pet's throat or can cause serious damage by puncturing the intestinal tract.
Hazards around the home at Christmas:
Fallen Christmas tree needles are very sharp and can easily get stuck in your pet's paws or throat. Sweep tree needles up regularly or fence off your Christmas tree to separate your pet and tree.

Do not hang your chocolates from your Christmas tree: they are highly toxic and your pet will be tempted if he can see and smell them.

Cover up electric cords and flashing tree lights so your pet can't chew them and electrocute himself.

Try using fairy lights that don't flash as some pets when up close can get very scared by these.

Christmas tree decorations can cause a nasty accident or be fatal to your pet. Cats, and young pets especially, will show a great interest in decorations hanging from your tree. Try to use unbreakable decorations and nothing too small. Avoid tinsel or ribbons as these are dangerous to the gastrointestinal tract if your pet swallows them.

Make sure your tree is well anchored so your pet can't pull it over.

Holly, mistletoe, lilies and yew trees are poisonous to pets and must be kept well out of reach.

Remember loud noises will panic your pet, such as Christmas crackers, poppers, balloons, and champagne bottles.

Remove your Christmas wrapping paper (and toys) from the floor to avoid your pet chewing or swallowing it.

For your pet's safety this Christmas always buy your pet's presents from a reputable pet shop or veterinary clinic.
For peace of mind please check your local veterinary surgery's opening hours over the Christmas period and have their phone number to hand just in case you need it. In the case of an emergency when you Vets is not open, an emergency Veterinary clinic will be available to help. This number will usually be available on your vet's website or answerphone message.
Most pet related Christmas dangers are easy to avoid so just have fun and remember to be pet safe!
Please contact us if you have any concerns or need our pet feeding or dog walking services over the Christmas period.
From all of us at Very Important Pets we wish you and your pets a very Merry Christmas and Happy New Year!